The Koumidou Outdoor Retreat Center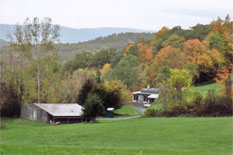 205 Dugan Hill Road
Schoharie, New York
USA, 12157
516 568-0306
ykoumidou@gmail.com
www.koumidoucenter.com
About This Center
The Koumidou Outdoor Retreat Center is located in the foothills of the picturesque upstate New York mountains. Surrounded by natural beauty, tranquility and absolute privacy our 70-acres of forests, meadows, ponds and springs offer the perfect venue for inspiration and rest. The space is conducive for deep work in the Psychology of the Aware Ego and the Selves promoting shifts in one's life.
Offering Continuing Education Credits
Offering
We offer three or four-day Individual, Couples and Group Retreats. Yolanda Koumidou-Vlesmas, LCSW developed and facilitates all retreats.

Individual Retreat: Inspired by cutting edge theories and methodologies like Voice Dialogue and Ecopsychology and age-old teachings from a multitude of esoteric traditions, Yolanda Koumidou-Vlesmas has pioneered these Private Individual Retreats.
The retreat is designed for individuals who have been or are currently in therapy and are ready to transcend their self-awareness to action in their everyday life. These retreats support and validate the work you have already done, taking you to the next level in your personal growth. This is an intensive, life-changing weekend experience.

Couples Retreat: Our Private Couples Retreat offers the opportunity to spend a weekend away alone with your partner rejuvenating yourselves and your relationship. The main focus is on how to begin using your relationship as a guide and teacher on your life journey together.
You will walk away from this weekend with:
* lasting new skills to dramatically improve your communication patterns
* simple and powerful ways to handle negativity in the relationship
* renewed intimacy and romance
* a deepened connection to your partner
* an awakening and strengthening of your sexual desire for each other

Group Retreat (R.E.S.T.) : Our Group Retreat entitled Revitalizing Energetically Stressed Types is designed for individuals characterizing themselves as Type A Personalities, overachievers, driven or having a strong Inner Pusher.
R.E.S.T. offers an unparallel opportunity to satisfy the parts of you that missed rest, stillness and peace while at the same time inspire and motivate the parts of you that are ready for the next project.
The Group Retreats are limited to 8 participants.
Online schedule available at www.koumidoucenter.com/programcalendar_frame.html