Abby Caplin
, MD - Counseling for Healing from Illness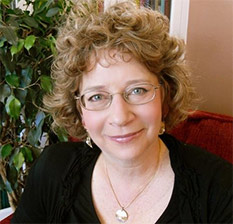 Abby Caplin, MD, MA
257 Connecticut Street, #3
San Francisco, California
94107
USA
415-255-9981
abby@abbycaplinmd.com
www.abbycaplinmd.com
I am a physician who specializes in Mind-Body medicine. I work with people who are struggling with all sorts of health challenges and illness. I've been using Voice Dialogue with my clients/patients since 2002. I have found it to be extremely helpful in discovering those Selves that have energetic repercussions for the body. Voice Dialogue can have a significant impact on freeing up energy for healing. I've witnessed health improvements in people with digestive problems, such as Irritable Bowel Syndrome (IBS), Crohn's Disease and Ulcerative Colitis (IBD); migraine headaches (myself included!); asthma; anxiety; and chronic stress; with significant decrease in frequency and severity of symptoms, decreased need for medications, and improved energy and quality of life. Voice Dialogue is a fabulous mind-body method for healing.

I began to use Voice Dialogue after learning about it in a Master's degree program in Integral Counseling Psychology at the California Institute of Integral Studies in San Francisco, CA, from instructor John J. Prendergast, PhD, after which I took several workshops with Deborah Morris, LCSW. I have been receiving ongoing training from Martha-Lou Wolff, senior Voice Dialogue facilitator and trainer, since 2013, and was privileged to experience a private tutorial with Hal Stone in April 2015. I am always thrilled to share the work of Voice Dialogue with my clients, because it gives them the technology to have more choice for themselves, and facilitates ongoing self-knowledge to live an aware and healthier life.

If you would like more information about my personal history with chronic illness and professional training, please visit my website. I look forward to working with you!
Detailed information

Practicing Since 2002

Additional Modalities: Sandtray, Emotional Freedom Technique (EFT), poetry therapy and other writing modalities.
Areas of Interest: Selves that may be impacting your health.
Degree

| Title/Field | School | Date |
| --- | --- | --- |
License

| Title | State | Date |
| --- | --- | --- |
Certification

| Type | Granting Organization | Date |
| --- | --- | --- |
| Master's degree, Integral Counseling Psychology | California Institute of Integral Studies | 2002 |