Alexa Delroy
, M.A. Pastoral Studies (Marital)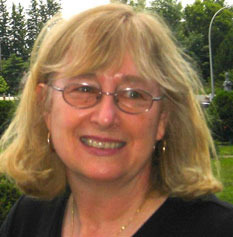 Ottawa Pastoral Counselling Centre
209-211 Bronson Ave.
Ottawa, ON
K1R 6H5
Canada
613 235 2516 x223
alexa.delroy@gmail.com
www.alexadelroy.com
I began my training in addiction studies, traveled by way of theology, then systems theory, and finished up near self-psychology. Each of these modalities answered a part of my need to understand what was happening in my family. Introduced to voice Dialogue 20 years ago, the Psychology of the Selves and Aware Ego brought together many pieces to form a clear picture of the self.

Behind the many selves of the personality lies the Aware Ego. My theological studies taught me that 'Freedom' is not "freedom from" restraint, but, at its fullest, "freedom to" do and accomplish important things. Aware Ego is the freedom skill, the freedom principle of the human person. It frees me to relate to myself. You, too.

This may sound abstract, and it is, but it has proved a firm foundation for my work with trauma, grief, depression, and all the sorrows humanity is heir to.

I love the ingenuity of the selves which try to protect us and give us a platform of creativity. There is almost no self with which I cannot identify, and practice has taught me to separate, too. This ability to embrace and separate from each of our selves is something I delight to share.
Detailed information

About This Practice
Practicing Since 1996

Degree

| Title/Field | School | Date |
| --- | --- | --- |
Certification

| Type | Granting Organization | Date |
| --- | --- | --- |
| Clinical Member | Ontario Society of Psychotherapists | |
Professional Background
I am a general practitioner working with adults and couples, and have practiced Voice Dialogue Facilitation for 18 years. This work is supported by a Voice Dialogue practice group which has run regularly for the same number of years.

I pursue regular professional development, and have certificates in Addictions Studies, Grief Recovery, and Mediation. Most of my efforts go to upgrading and enriching my practice with trauma clients.

Basic Voice Dialogue Training(s)

| Title | Where | When | Hours / Days | Teacher(s) |
| --- | --- | --- | --- | --- |
| Level One Training | Ottawa, ON | 2000-2001 | 3 hrs X 40 weeks | Monica and Ken Bragg |
| Level Two and Three | Albion, CA | December, 2001 | 7 days | Hal and Sidra Stone, and staff/ |