Catherine Keir
, B.A. Theatre Arts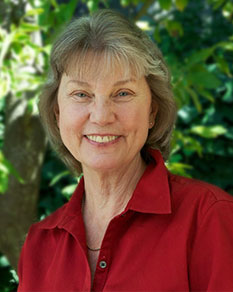 Access
1605 - 12th Avenue, Suite 5
Seattle, WA
98122
USA
206 818-0397
cathkeir@gmail.com
www.catherinekeir.com
The freedom to choose that can evolve through the attention given to Awareness and the Aware Ego Process has been shown to enrich the quality of people's lives. My experience of Voice Dialogue verifies for me the continual discovery of an aliveness which emerges step by step and is a tribute to inner development. I listen to people; they hear/see themselves and we awaken to more of who we are, individually, in our relationship to each other and to the greater intelligence that informs us.
Languages Spoken: English
Detailed information

About This Practice
Practicing Since 1985
Teaching Since 1987
Offering Continuing Education Credits
Additional Modalities: For nine years I observed bodywork education from Joseph Heller, founder of Hellerwork; trained for six years with Francesca McCartney, founder of the Academy of Intuitive Medicine; practiced the healing arts brought forth by Dr. Brugh Joy and Dr. Carolyn Conger spanning two decades; eight years of ongoing study in creating characters, body expression, emotional and sensation attentiveness in film and theatre with Dana Evans, co-founder of Actors in Transformation; Werner Erhard and the Forum programs for ten years; association with the Gurdjieff Foundation; these models and other remarkable teachers all contribute to my Voice Dialogue practice.
Areas of Interest: I look for the meeting point between the Aware Ego Process and energetic patterns; in the body, emotionally, as spiritual archetypes and as mental power; how their manifestation appears in everyday movements and attitudes. Understanding these vibrations and seeing myself react automatically has become part of my life's inner study and my contribution.
In relationships there is the continual challenge of recognizing Bonding Patterns and riding the edge of what belongs to each of us so that we create a sense of individual authorship in every life story.
I continue to participate in the support of developing community visions for Voice Dialogue in structured circles.

Degree

| Title/Field | School | Date |
| --- | --- | --- |
Certification

| Type | Granting Organization | Date |
| --- | --- | --- |
| Certified Counselor | Dept. of Health, WA State | 2010 |
Professional Background
I began my relationship with Drs. Hal and Sidra Stone in 1979 in a weekend program. As a result of ongoing learning from them and staffing in their trainings for 25 years, I synthesize their direct influence into my practice and teaching. I offer private sessions in person and on skype. I travel and am an instructor for counselors, bodywork practitioners, therapists, actors, and those seeking the development of the consciousness process. I enjoy co-teaching with colleagues and recognize the value of a variety of perspectives.
Basic Voice Dialogue Training(s)

| Title | Where | When | Hours / Days | Teacher(s) |
| --- | --- | --- | --- | --- |
| Voice Dialogue Summer Kamp | Sherman Oaks, CA | 1984-1987 | 10 days | Drs. Hal & Sidra Stone |
| Voice Dialogue Winter Kamp | Sherman Oaks, CA | 1988-1994 | 4 days | Drs. Hal & Sidra Stone |
| Voice Dialogue Weekend programs | Los Angeles, San Francisco, Seattle, New York | 1979-2005 | 2 days | Drs. Hal & Sidra Stone |
Continuing Voice Dialogue Education*

| Title | Where | When | Hours / Days | Teacher(s) |
| --- | --- | --- | --- | --- |
| Voice Dialogue Summer Kamp | Philo, CA | 1988-1994 | 12 days | Drs. Hal & Sidra Stone |
| Thera Intensives | Albion, CA | 1994-2012 | 6 days | Drs. Hal & Sidra Stone |
* The most recent workshops.