Francesca Starr
, Ph.D., Counseling Psychology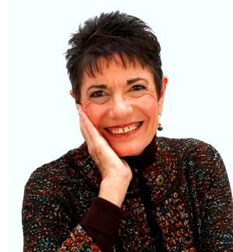 Senior Voice Dialogue Coach and Trainer
109 E. 9th Avenue, Suite 350-C
Denver, Colorado
80203
USA
303-894-0269
francescastarr@gmail.com
www.completelifecenter.com
In 1988 I discovered the power of Voice Dialogue to transform lives, beginning with my own. I was hanging out with my friend Shakti Gawain at her beautiful home on Kauai when she offered to facilitate my first Voice Dialogue session. After struggling in the dark night of my soul for years, and working with any number of therapeutic and healing modalities, one Voice Dialogue session broke through my internal stalemate. With Shakti's help I then went to Hal and Sidra Stone and worked intensively with them to meet my Inner Selves who were involved in my descent; and began to develop an Aware Ego Process in relationship to them. Through this masterful work I broke through and ascended from the darkness; from a new place I claimed my passion, my work, and my life. Thus, arose my commitment to this work. I trained with Hal and Sidra, and later with their daughter (and friend and colleague) Tamar Stone and Martha-Lou Wolff. Voice Dialogue has been the cornerstone of my counseling, coaching, and workshop/training business ever since.

My gift is in safely drilling to the core of an issue and empowering the client to resolve the issue and grow the Aware Ego Process in relation to the Inner Selves involved. My approach is collaborative; my clients and I embark on a journey of exploration that begins with respecting wherever the client is in their personal or professional growth, and allowing their rhythm for change to guide the work. I deeply appreciate Voice Dialogue's respect for the existing ego structure in each person and the truly safe and organic manner in which change occurs and is sustained.

This work is my passion. Clients have told me they experience me as keenly present and genuinely interested in them as unique beings. I consider each session an opportunity to support clients to resolve issues quickly and safely, and to elevate life skills and professional effectiveness beyond competence to mastery.
Detailed information

About This Practice
Practicing Since 1990
Teaching Since 1994
Additional Modalities: My background includes training in: Dialectical Behavioral Therapy, Jungian Psychology, Transpersonal Psychology, Psychodynamic Therapy, Mindfulness – at this point in my career I am using a coaching model and using Voice Dialogue to focus on an issue (personal or professional, day-to-day or spiritual) and generate breakthrough movement toward resolution of the issue, and deeper self-awareness and conscious evolution.
Areas of Interest: I work with these (and many other) areas in coaching sessions, talks, and workshops:

Self-Awareness from the Top-Down: Leadership Development Using Voice Dialogue
The Art and Science of Mastering Paradox: "Sweating the Opposites" as a Path to Evolving Consciousness Growing and Experiencing the Aware Ego Process (the Conductor of the Inner Orchestra) through Voice Dialogue
Voice Dialogue and the Shadow
Voice Dialogue and the Dark Night of the Soul as a Transformational Path
Voice Dialogue and re-activating the sensitive, creative, intuitive parts that have often been buried
Stress Management with Voice Dialogue
Relationships as Teachers
Voice Dialogue and Managing Change and Life Transitions
Voice Dialogue and Spiritual/Religious Concerns and Breakthroughs
I welcome clients from the GBLT community
Degree

| Title/Field | School | Date |
| --- | --- | --- |
Certifications

| Type | Granting Organization | Date |
| --- | --- | --- |
| M.A., Transpersonal Psychology | Institute of Transpersonal Psychology | 1979 |
| M.A., Education | University of Colorado | 1974 |
Professional Background
I began my career as a public school social science teacher. I created pioneering curricula including: Discussing Controversial Issues, The History of Childhood and Children's Rights, Death and Aging, and Exploring Inner Space. My mother and I wrote a book about the students' experiences in my classroom, If I Die and When I Do: Teaching Young People About Death and Aging - Gay Hendricks wrote the forward and helped get it published by Prentice-Hall.

I left Colorado for the Bay Area to study at the forward looking Institute of Transpersonal Psychology and explore what Maslow called, "the farthest reaches of human nature." I felt privileged to study with many of the leaders of the Human Potential Movement. I received my second Masters Degree in Transpersonal Psychology. I began counseling under the supervision of the Director of the Family Therapy Institute of Marin County.

Then life took a turn and I spent ten years in the corporate world in marketing, management, and consulting. Here I honed my communications and management skills.

I began my private practice in 1988. Around this time I began my intensive training with Hal and Sidra Stone in Voice Dialogue. I moved my practice to Denver in 1995, where I founded the Voice Dialogue Training Institute. I also completed my Dissertation on "Voice Dialogue and Shadow Work". In 2005 the Institute evolved into the Complete Life Center.

At the present I am a senior Voice Dialogue Facilitator, Coach, and Trainer. I have served on staff at the Stones' Trainings in Mendocino, CA. I conduct workshops, and Level One and Two Training programs in Denver and around the country. I supervise those who are incorporating Voice Dialogue into their work. I enjoy delivering Voice Dialogue into the corporate arena, and particularly working with senior level executives on increasing their self-awareness as key to achieving excellence as leaders.

In addition to the above book, I have published numerous articles on: Voice Dialogue and the Descent Path; Voice Dialogue and Healing the Inner Scapegoat; Voice Dialogue and the Inner Critic; Voice Dialogue and the Perfectionist, etc. Several have been published by GoodTherapy.com and are on my website: www.completelifecenter.com

I specialize in phone and Skype sessions.
Basic Voice Dialogue Training(s)

| Title | Where | When | Hours / Days | Teacher(s) |
| --- | --- | --- | --- | --- |
| Voice Dialogue, Psychology of Selves Intensives; Master Class in Clinical Use of Voice Dialogue | Albion, California | 1990; 2/1994-10/1994; 9/ 2001; 11/2005-11/2006 | 212 hours / 32 days | Drs. Hal and Sidra Stone |
| Voice Dialogue Intensive | Denver, Colorado | 01/21-23/2000 | 24 hours / 3 days | Martha-Lou Wolff |
| Voice Dialogue Level One Training | Denver, CO | 04/09 - 15/ 2000 | 56 hours / 7 days | Tamar Stone |
| Voice Dialogue Level Two Training | Denver, CO | 10/15-21/2000 | 41 hours / 7 days | Tamar Stone |
| Ongoing Voice Dialogue Personal Work | Albion, CA; Boulder, Denver CO | 1988 - 2013 | | Hal and Sidra Stone; Tamar Stone; Martha-Lou Wolff; Marsha Sheldon |