Iudita Harlan
,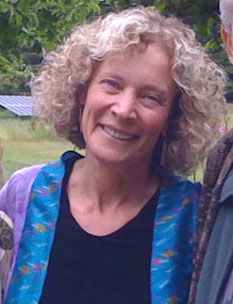 San Francisco, CA / Aurora, OH
USA
216 310 4423
iuditaharlan@gmail.com
www.iudita.com
I am a visual artist and enjoy supporting the creative process in my clients' journey.
Being the daughter of Holocaust survivors I have a deep sensitivity to and interest in how we come to terms with our unique history and the individuation process.
I immigrated to the U.S from Romania in 1966 and have a keen sense of the gifts and difficulties of being the "outsider".


Available globally using Zoom, Skype and Phone
Languages Spoken: English, Hungarian
Detailed information

About This Practice
Practicing Since 1987
Teaching Since 1995
Additional Modalities: Hellerwork Structural Bodywork
Sitting with Selves
Couplettes
Areas of Interest: I specialize in working with small groups and individuals dealing with compulsive behavior issues, sexual and physical trauma issues and lately have a great interest in how group support can help strengthen the Aware Ego process.

Certification

| Type | Granting Organization | Date |
| --- | --- | --- |
| Advanced Hellerwork Practitioner | Hellerwork International | 1987 |
Professional Background
My initial exposure to Voice Dialogue came in the years 1987 and 1988 as part of my Hellerwork Structural bodywork training. I immediately took to this elegant way of working with selves and started combining body centered awareness with voice dialogue facilitation.
My love affair with the work deepened as I started attending Drs.Stone Mendocino Intensives starting in 1995.
I have continued to study directly with Drs. Hal and Sidra Stone, accruing over 600 hours of personal training,
I became a Senior Staff member in 2001 and have continued to have the honor and pleasure to staff at their yearly intensives.
I find that this direct ongoing apprenticing with my teachers is the best way to continue to unfold and awaken the great ongoing mystery that is the Aware Ego process.
I completed my training as a Hellerwork Practitioner in 1987 and have continued to offer this powerful way of unwinding the body/mind through the eleven session series.
I have co-created, with Jonah Koslen, the "Sitting with Selves" contemplation method as well as "Couplettes", a new way to communicate in relationship.
Both these techniques are designed to encourage the strengthening of the Aware ego process.

Basic Voice Dialogue Training(s)

| Title | Where | When | Hours / Days | Teacher(s) |
| --- | --- | --- | --- | --- |
| Drs.Stones Thera Intensives and individual work | Mendocino,CA | 1995 thru present | 600 plus hours | Drs.Hal and Sidra Stone |
Continuing Voice Dialogue Education*

| Title | Where | When | Hours / Days | Teacher(s) |
| --- | --- | --- | --- | --- |
| Individual Supervision | Cleveland, Ohio | 2000 thru present | many | Dianne Braden, Jumgian analyst, facilitator |
* The most recent workshops.