Janny Padelford
, Masters in FNP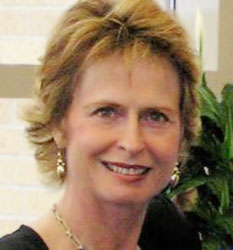 5 Crocus lane
St. Paul, Mn
55127
USA
612 716 1325
I've been blessed to be drawn to work I feel passionate about. The journey for me personally has been ongoing into the body, the psyche, and the spirit. They are intertwined and all necessary. Although my foundation is mainly Voice Dialogue and i try to meet the client where they are and with what they need and, depending on the clients' needs, goals, and openness to different modalities, can draw from experience with Outward Bound, nursing, shamanic studies, sound healing, and somatic experiencing .
Detailed information

About This Practice
Practicing Since 1993
Teaching Since 1994
Additional Modalities: Outward Bound-experiential education. Family Nurse Practitioner. Shamanic Practitioner. Sound healing. Somatic Experiencing.
Areas of Interest: Eclectic, depending on client's interest and my ability.
Degree

| Title/Field | School | Date |
| --- | --- | --- |
License

| Title | State | Date |
| --- | --- | --- |
Professional Background
Voice Dialogue is the center and framework for my psycho-spiritual-energetic practice. I began studying voice dialogue in 1992 and began facilitating with clients in 1993. The work is so immensely clean, empowering, deep, respectful and transformative .Before voice dialogue I was a instructor, course director, and program designer (since 1972) working for Outward Bound in Minnesota, Maine, Colorado, and East Africa with various population groups including young adults, adults in transition, adults with addictions and chemical dependency, and battered women.
As Nurse Practitioner, I worked in an alternative/complementary practice in Minneapolis for several years. I have studied extensively with Michael Harner (Foundation for Shamanic Studies) and other shamanic teachers and use shamanic practices when appropriate. I have also studied Somatic Experiencing and am incorporating and include this body work in my practice.
Basic Voice Dialogue Training(s)

| Title | Where | When | Hours / Days | Teacher(s) |
| --- | --- | --- | --- | --- |
| 3 Intensive 2 wk Voice Dialogue trainings | Albion 2 week intensives | 1992, 1993, 1994 | | Hal and Sidra Stone, and senior staff |
| Level 3 one week training for facilitators | Albion, Ca | 1997 | | Hal and Sidra and senior staff |
| Mentoring | | mid 90's+ | | Martha Lou Wolff mentored me extensively |
| Individual relationship facilitation | Albion | 1993 | 1 week | Hal and Sidra Stone |
| Supervision/mentoring | St. Paul Mn | 1997 | 4 days | Martha Lou Wolff |