Joke Lamers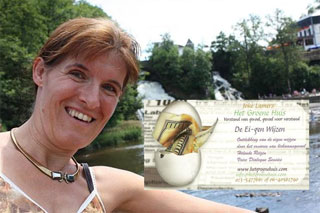 De Ei-gen Wijzen, Villavijf33
Kromme Spieringweg 533
Vijhuizen, omg.Haarlem,
2141 AK
The Netherlands
+31-23-5477661 of mobiel +31-6-40562790
info@hetgroenehuis.com
www.hetgroenehuis.com
I have 15 years of schooling and 30 years working experience in the area of physical and emotional well being. Started with posture and physical exercises, touched by the psycho-somatic complexity and fascinated by the physical endurance of the survival mechanisms, my way of working is dedicated to giving insights that create openings towards a truly own way.
Languages Spoken: Dutch and English
Detailed information

About This Practice
Practicing Since 1993
Teaching Since 1995
Additional Modalities: Haptotherapie, a Dutch method of working with the sense of the touch, responsible for feelings and emotion, and for validating experiences.
De ei-gen Wijzen, (From egg to expression), The method I am developing combining insights in feeling patterns with the life history.
The Journey, Year training with Brandon Bays
Areas of Interest: The effect of traumas experienced before the time that a person can speak, from conception, till the age of 2/3. I am doing research in this area.
Basic Voice Dialogue Training(s)

| Title | Where | When | Hours / Days | Teacher(s) |
| --- | --- | --- | --- | --- |
| The 3 year training Voice Dialogue at the ITP | Bergen, The Netherlands | 1990- 1993 | | Robert Stambolief, Maria Daniels, Marian van Riemsdijk |
| 2 Week Peronal Training with Hal and Sidra Stone | California | 2002 | 44 hours | Hal and Sidra Stone |