Yolanda Koumidou-Vlesmas
, LCSW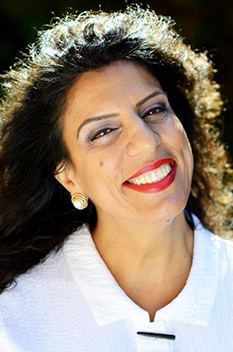 150 Piccadilly Downs
Lynbrook, NY
USA, 11563
516 568-0306
ykoumidou@gmail.com
www.dietingknowmore.com
I created the Inner Eater System in 2007, a psycho-spiritual weight maintainance approach utilizing the Theory of the Psychology of Selves and the Voice Dialogue method.
Additional services include, retreats at the Quietude Retreat Center, face-to-face and virtual psychotherapy for individuals and couples.
Through my extensive experience interweaving traditional approaches with psycho-spiritual disciplines, the following theories and modalities serve as the foundation of my work: the theory of the Psychology of Selves and the Voice Dialogue Method, the teachings of Meher Baba, the Quantum Physics theory and the use of hypnotherapy, art, movement, dream work and energetics.
Languages Spoken: English and Greek
Detailed information

About This Practice
Practicing Since 1986
Teaching Since 1996
Additional Modalities: Individual, Couples and Family Psychotherapy, Hypnotherapy, A.R.T. (Awareness Release Technique), Dream work, Energy Clearing and Energy Work.
Areas of Interest: Inclusion and emphasis on the transcendental aspect of the Psychology of Selves and work with the Inner Eater Selves, the parts of our personality that eat without awareness.
Degree

| Title/Field | School | Date |
| --- | --- | --- |
License

| Title | State | Date |
| --- | --- | --- |
Certification

| Type | Granting Organization | Date |
| --- | --- | --- |
| BCD | National Association of Social Workers | |
| CHt | The Wellness Institute | |
Professional Background
Yolanda Koumidou-Vlesmas, author of Responding to Loneliness and Longing and The Inner Eater Selves, has been accompanying people on their voyages of self-exploration for almost forty years. Her practice involves interweaving age-old disciplines with cutting-edge approaches. She has been a consultant for mental health professionals, director of substance abuse treatment facilities and adjunct professor at CUNY. She developed the Inner Eater Selves System, a psycho-spiritual approach to weight maintenance and the Inner Life Mentoring International™, an individual retreat model. For fifteen years she organized and lead international group retreats for inner life exploration in Europe, North America, South America, Africa, Asia, the Middle East and Australia. Throughout her career, Yolanda maintains a thriving private practice in New York with national and international clientele, both in-person and through Teletherapy. In addition to the NYSED CE approved Webinars, she also offers in-person CE approved courses at her Quietude Retreat Center in upstate New York.
Basic Voice Dialogue Training(s)

| Title | Where | When | Hours / Days | Teacher(s) |
| --- | --- | --- | --- | --- |
| Level I Intensive | New Jersey, USA | February, 1996 | 36 hours, 6 days | James Cotten |
| Level II Intensive | Albion, California | May, 1998 | 36 hours, 5 days | Hal and Sidra Stone and staff |
| Level III Intensive | Albion California | September, 2001 | 36 hours, 5 days | Hal and Sidra Stone and staff |
| Energetics | Los Angeles, California | June, 2003 | 10 hours | Dr. Laurence Novick |
| Consultations | Albion, California | 2004-2019 | 50 hours | Hal and Sidra Stone |
Continuing Voice Dialogue Education*

| Title | Where | When | Hours / Days | Teacher(s) |
| --- | --- | --- | --- | --- |
| Level II and III Intensives | Albion, California | 2005-2010 | Senior Staff at 4 Delos Intensives, 180 hours | Hal and Sidra Stone |